Introducing PASS Summit Learning Pathways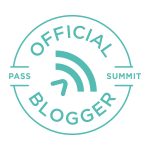 As an attendee, deciding which sessions to attend at conferences can be a daunting endeavor. With so many choices available and the impossibility of being able to attend every interesting session, it really can make sense to buy recordings if they are available.
One of the ways PASS is trying to help for Summit 2019 is by introducing Learning Pathways, which are curated sets of sessions designed to help attendees achieve a goal. Each pathway will consist of at least three sessions, presented by at least two different speakers. The pathways being offered in 2019 will be:
I think these pathways are a great idea, and one of my favorite aspects is that they will be scheduled in chronological order. Within each pathway, introductory sessions will take place before the more advanced ones so it will be easy to enhance your skillset with sessions that build upon each other.
I'm really excited for these learning pathways at PASS Summit this year, and I hope you are too. I can't wait to see you there!