PASS Summit Tip: Food
This week's PASS Summit Tip is all about food. And with all the learning and networking opportunities you'll find there, you're going to need a lot of it!
Have you ever been to a wedding where the food is just "meh"? It's edible, but nothing great. You can't blame the happy couple for it, because they're footing the bill and feeding 100 or 200 people gets expensive quickly. And the food's just a small detail of the wedding anyway – the real fun has nothing to do with the meal. Hopefully they at least have an open bar….
Now think of PASS Summit, and instead of feeding a few hundred people, they're feeding a few thousand. And paying convention center prices for it. Yeah, that's what breakfast and lunch are like at the conference. But that's okay, because the real fun has nothing to do with the meal here either. (Also, sorry, but there's no open bar.)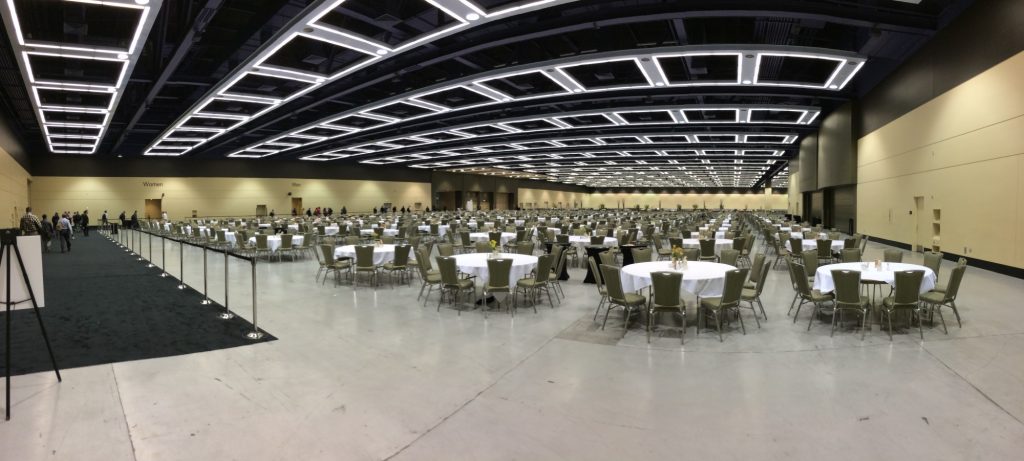 PASS Summit dining has quite the ambiance!
While the conference food may be hit or miss, the real opportunity of dining there is the networking. As I've said before, the whole point of being at PASS Summit is to meet new people and make connections. So if you're heading to the dining hall, don't go searching for an empty table – find one with other people at it and strike up a conversation. Find out where they're from, what their job is, and what sessions they are planning to attend today. Exchange business cards, and maybe Twitter handles too! At lunch this is even easier, because there are Birds of a Feather Luncheon tables pre-marked with topics.
My Picks
And don't forget, if you really don't want to eat the provided food, you're in Seattle! There's awesome choices all around! Yes, there's a Cheesecake Factory right out the front door of the convention center, but you can do so much better than that. Here's a few of my favorite places: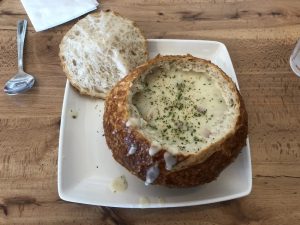 Lowell's Yes, I know it's at Pike Place Market, and it's touristy. But here's the thing, Lowell's has AWESOME breakfast. And if you get there right when they open at 7am there aren't any tourists to be found. The market is super quiet and you can watch the city wake up from the amazing view you'll get on the third floor. They also have great chowder at lunchtime – get it in a breadbowl and you'll be ready for your food coma by the time afternoon sessions start.
Biscuit Bitch I am a connoisseur of biscuits and gravy and its kindred entrées. The best I've found in Seattle so far is at Biscuit Bitch. It's another great way to wake up with food that will put you to sleep during a session. But that's ok, because you ordered the session recordings, right?
Top Pot Doughnuts Yes, you need doughnuts, and the ones from Top Pot are really good. Even if you ate a bunch of doughnuts on the SQLTrain, you still need more. So go there and try one, or maybe two. Or just get a box and bring them back to the convention center. A box of doughnuts can help you make lots of friends very quickly! Also, save some for the hard-working PASSHQ staff. While we're there having fun, they are busting their tails all week. And if you were curious, my favorite type of doughnut ever is a cake doughnut with chocolate frosting (no sprinkles please!)
13 Coins And finally, if you're looking for a late night bite to eat after one of the many evening activities lets out, 13 Coins is always a solid option. They're open 24 hours, but I always seem to end up there in the very early morning for some reason… The original location closed last year, but they moved to a new spot, and I'm looking forward to checking it out.
This is by no means an exhaustive list, but no matter what you're looking for food-wise, you can probably find it within a reasonable distance of the convention center. I hope you can find yourself some great eats while there!