PASS Summit Tip: SQL Saturday Portland & SQLTrain
It dawned upon me the other day that this will be my seventh year attending PASS Summit, and I'm pretty fortunate to have been able to attend so many times. Over the years, I have also acquired some knowledge about the event and how to prepare for it that may be helpful for others. So this year, I hope to share a few tips which I think may be most helpful.
If you are looking to begin your PASS Summit experience a little early, head a few hours South of Seattle to Portland, Oregon. SQL Saturday Portland is a fantastic event that takes place the weekend before PASS Summit begins.
SQL Saturday Portland, Oregon
In many ways, SQL Saturday Portland is a wonderful "preview" of PASS Summit sessions. You will find many PASS Summit speakers love to attend this event before heading up to Seattle. Some of them even deliver the very same talks they'll be doing at Summit. Not only can you enjoy PASS Summit-quality talks for free in Portland, but you can also do so without the huge crowds. It's a relaxed and fun environment, and a very well-run SQL Saturday. I've been attending for years and I can't say enough good things about it!  If this sounds awesome and you'd like to attend, you can register here!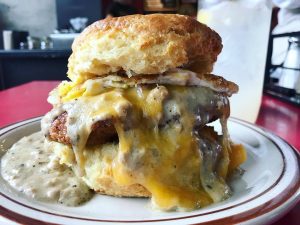 "The Reggie Deluxe"
Aside from their SQL Saturday, Portland is an amazing city in general. It has plenty of great dining options, lots of interesting places to explore, and excellent public transit to get you everywhere you want to be. A little internet searching will get you lots of ideas of where to visit, but here's a few of my favorites that might not appear on those lists.
Portland is very much a breakfast town, and Pine State Biscuits has the best biscuit-based menu I've ever seen, or tasted. Their biscuits and gravy is life-altering, as is their fried chicken. Better yet, you can combine the two into a sandwich they call the "Reggie". This is one place I make sure to visit every time I'm in Portland, period.
You know what goes great after breakfast? Dessert! Once you've worked off that amazing breakfast, head to Salt & Straw for some out-of-this-world ice cream. I've never been to an ice cream parlor that had a line out the door before, but they did. And once I tried their ice cream, I understood why. Salt & Straw has a rotating menu with some very "interesting" flavors each month, as well as a bunch of classic flavors as well. My personal favorite: Freckled Woodblock Chocolate.
Finally, Portland has no shortage of hotels, but the one I've come to love over several years of staying there is the Courtyard Marriott Portland City Center. They have excellent prices, a great location downtown, and Portland's light rail stops right out front. This hotel has become a favorite among SQL Saturday attendees, so you'll be sure to run into #sqlfamily members there. It's also a walkable distance from Portland Union Station, which is the starting point for my next tip…
SQL Train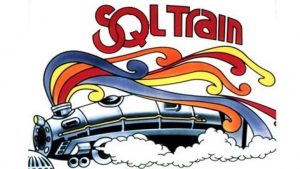 What's the best way to get from Portland to Seattle? On a train with all your friends, of course! For several years now, SQLTrain has been doing just that. What started as a few people taking the scenic four hour Amtrak ride from Portland to PASS Summit has turned into a literal party on a train, with an entire car reserved. Enjoy great company and conversation with #sqlfamily, see old friends, make new ones, oh and did I mention there's doughnuts? SQLTrain prides itself on offering a wide variety of doughnuts from around the Portland area, which is the marketing department-approved way of saying WE BRING TONS OF DOUGHNUTS!!!
In all seriousness though, SQLTrain is a wonderful time and far cheaper (and more fun!) than renting a car or flying to Seattle. SQL Train is open to anyone looking to get to PASS Summit from Portland, there is no requirement to attend SQL Saturday Portland to ride the train with us.
Oh, and one more thing: SQL Train is even bigger this year, as it has expanded to not one but TWO private train cars. If you would like to ride the SQLTrain, some spots are still available. Register here before they're all gone!
I hope to see you at SQL Saturday Oregon, or on the SQLTrain, or at PASS Summit, and I'll have more tips in the coming weeks!